PROJECT MANAGEMENT
At Spotswood Consulting, we excel when we integrate our strategic partner eco-system with our Services Delivery Framework, detailed below. Our role as a trusted advisor is one that we take very seriously and guides all that we do.
Using our proven program management process with our strategic partners in concert with Business and Technology Solutions, Business Development Services, and Staffing Solutions, Spotswood Consulting identifies the best fitting deliverables and plans a strategy around the people and processes to successfully integrate the technology.
Our process is always custom tailored to meet the needs of individual projects, programs, and clients.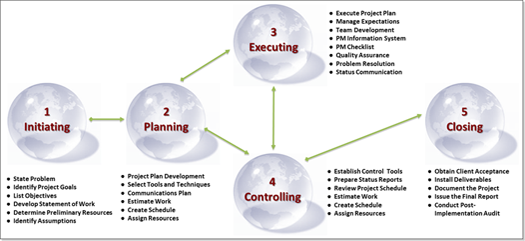 Click to view larger
Step 1: Initiating
Our initiating phase provides a solid foundation to build and create an effective solution. This phase includes stating the problem, identifying project goals and objectives, developing statement of work and preliminary resources along with assumptions for a strong understanding and plan to move forward.
Step 2: Planning
Our planning phase creates a detailed project plan which identifies the tools and techniques required, generates an effective communication plan, provides a realistic estimate of the work, creates the timeline and schedule for the project along with assigning resources to generate optimum results for project completion.
Step 3: Executing
Once the plan has been formulated, a critical piece of our process is in execution. Our execution includes managing expectations, development of an effective team, proper management of each project through information systems, checklists, quality assurance checkpoints and effective communication of status reports and resolutions of problems.
Step 4: Controlling
Our controlling phase establishes control tools, prepares detailed status reports, reviews project schedule for estimates work to completion schedule, and assigns additional resources as necessary to complete the project.
Step 5: Closing
Our closing phase ensures that each phase of the project has been fully completed. We obtain client acceptance, install deliverables, document each project, issue the final report and conduct our post-implementation audit.
Contact us today and let us utilize technology to move your business forward.
WHAT WE OFFER
Project Management
Expert project management to ensure deliverables are received on time and within budget.
Consulting and Systems Integration
In-depth valuation of technology solutions to ensure ease of implementation.
Managed Solutions
Extensive experience as end-user, vendor and consultant allows us to provide a proven process.
Product Solutions
Staffing, vendor management, budgeting, business planning and development our solutions minimize unintended consequences and maximize the upside.
Business Process Improvement
Analysis of your current sales activities to identify areas of opportunity.
Business Valuation Solutions
Evaluation of current resources and potential sales growth.
Performance Management
Creation of a strategic marketing plan and implementation based upon realistic goals.
Sales Force Development and Training
Onsite training, personal coaching, and a written plan to enable your sales team to be productive.
Call/Contact Center
"Real life" expert consulting for exceptional people, processes.
Professional Recruitment
Outline the parameters of the project or long term position, accurate assessment of skill sets required for optimum placements.
Contracting
Local to national contract candidates available. Fully screened for your business.
Placement
Audit of contracted positions for accurateness, effectiveness and building long-term valued relationships.