VENDOR MANAGEMENT SOLUTIONS (VMO)
Thriving companies manage hundreds of vendor contracts and millions of dollars in spending. Creating a Vendor Management Office (VMO) will help your organization spend money wisely and get the most from vendor relationships.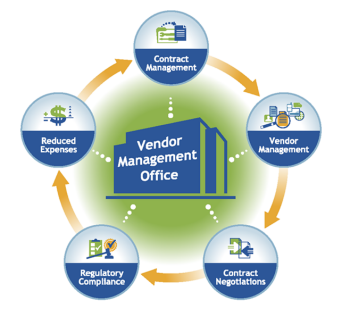 Once your organization reaches a tipping point, you'll get a strong ROI from creating a vendor management office (VMO). Although the tipping point varies by organization, Forrester reports that 39 percent of companies with at least 1,000 employees have a VMO, as do about half of companies with at least 5,000 employees.
An effective VMO goes beyond basic procurement functions to deliver strategic value by optimizing vendor relationships and accountability. It also brings transparency to vendor evaluation and choices, making sure that your supplier relationships are based on value rather than history or sentiment. When a VMO is truly useful, both the organization and its suppliers benefit.
Download Our Vendor Management Whitepaper
We offer multiple delivery models, each targeting a specific market segment, which enables us to serve any kind of organization ranging from small start-ups to large multinational corporations.
Spotswood Consulting will guide you through best practices for launching your VMO including:
Making a business case
Designing & Proposing the VMO's Roles & Responsibilities
Staffing the right people, navigating supplier relationships
Selecting your VMO's Vendor Management System (VMS)
Measuring and tracking your VMO's success.
Your organization and suppliers will benefit from your well-organized, successful VMO. Your new Vendor Management Office includes:
Contract Management
Vendor Management
Contract Negotiations
Regulatory Compliance
Reduced Expenses.
Contact us today to utilize our vendor management (VMO) solutions and move your enterprise forward.